The Chianti castles route draws its inspiration from the surprising number of castles, tower houses, fortified farm houses and fortified Abbeys in the area. The six itineraries provide a very pleasant way to discover the architecture, history and present way of life of the area of the Chianti around Gaiole in Chianti. The English versions of these itineraries may be found on the web site of Greve in Chianti, the main market town of the area - click this link for the Chianti castles route in English.
Travel Guide for Visitors to the Chianti Classico Wine Region of Tuscany, Italy.
Il progetto della Strada dei Castelli del Chianti è stato sviluppato dall'Amministrazione Comunale di Gaiole in Chianti allo scopo di far conoscere e visitare l'area del proprio comune.
Si articola in 6 itinerari - link ai testi in italiano sotto.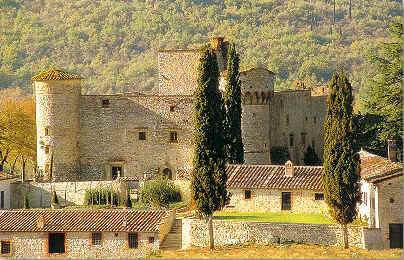 Castello di Meleto
La Strada dei Castelli del Chianti in italiano
| | |
| --- | --- |
| | - Pieve di Spaltenna, Vertine, Uliveta, S. Donato in Perano, Vistarenni |
| | |